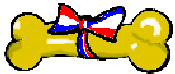 The Coveted Golden Bone Award
Well, okay, so maybe it isn't coveted yet. We're guessing it will be soon enough. Starting in July, 1999, and continuing monthly as long as someone is interested in maintaining the site and giving the award out, the Golden Bone Award will be presented to a web site in the Humane Society and Animal Welfare Ring which best exemplifies service to animals and to the humane community.
To nominate a site from the HS&AW Ring for this award:
*surf the ring
*choose a site that meets the criteria
*send an email to the Golden Bone Committee giving us the site name and why you think the site should receive the award
*then check back the next month to see if the site you nominated has won!
Back to the HS&AW Ring Home Page | To the HS&AW Ring Friends Page | To the FAQs