| | |
| --- | --- |
| | THERAPYPETS IS an email discussion list devoted to animal assisted therapy (also known as pet therapy). Animal Assisted Therapy is, in general, the use of animals to provide solace, incentive or an emotional boost to humans. This is a very broad definition which includes almost any animal-human interaction. Among those interactions are: stroking, cuddling and embracing a dog, swimming with dolphins, riding horseback, learning to care for various animals, grooming animals, and speaking about animals. While the use of a service dog (guide dog for the visually impaired, hearing dog for the deaf or hard of hearing, assistance dog for people with physical challenges) can be therapeutic, this is not generally recognized as animal assisted (or pet) therapy. |
Everyone is welcome on this list, no matter one's ability or background. This is a moderated list and we try to keep most posts on-topic. If you have been doing pet therapy (PT) for a long time or are just getting involved, you are welcome to join our list. We hope to have a Frequently Asked Questions file up here soon, so check back. In the meanwhile, click here to go to Onelist.com to join.
Once you've joined the list, feel free to add one of these banners (and this HTML link) to your web site.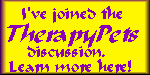 Just for space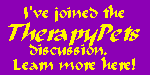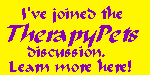 Just for space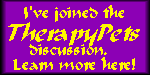 <a href="http://hsawring.itgo.com/TherapyPets.html">
<IMG SRC="FILENAME of Graphic you chose" 
ALT="Click here to find out about TherapyPets@onelist.com"></a>
This page last updated on July 11, 1999, by Alicia Graybill, TherapyPets list owner and moderator.